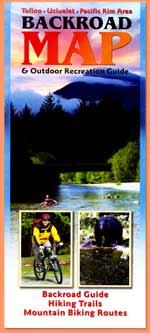 Backroad Map and Outdoor Recreation Guide SOLD OUT!
SKU 2
Product Details
SOLD OUT
by JF Marleau and published by Pacific Rim Informative Adventures (PRIA) in 2003.
This map is an invaluable outdoor activity guide for the Tofino-Ucluelet-Pacific Rim area. It features a multi-use trail network, logging roads and recreational activities and locations of interest. Vancouver Island's west coast is a popular destination with beautiful, wild, uncrowded backcountry areas. Hundreds of kilometres of trails offer exceptional opportunities for outdoor activities such as hiking, mountain biking, and off road driving. This map includes route information (length, level of difficulty, access, etc.) for hiking and mountain biking for all levels, from beginner to expert.
Save this product for later