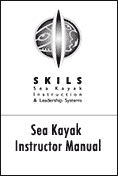 Sea Kayak Instructor Manual by SKILS SOLD OUT!
SKU 8
Product Details
Designed specifically for sea kayak instructors, this manual covers a number of topics including designing and running kayak programs, games, strokes and rescue progressions, and sample lesson plans.
Written by Michael Pardy, JF Marleau, Andrew Woodford and Piper Harris.
Save this product for later