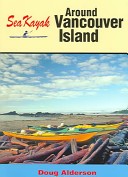 Sea Kayak around Vancouver Island SOLD OUT!
SKU 5
Product Details
Sold Out

By Doug Alderson and published by Rocky Mountain Books in 2004.
Sea Kayaking Around Vancouver Island covers a full circumnavigation of Vancouver Island. If you are interested in a grand expedition, a week of summer touring, or a weekend excursion, this guidebook will give you the information you need. Each chapter covers a section of the island providing ample information on: points of access, interesting sites, safe routes to travel, hazards to avoid, and comfortable campsites. Signed copies available with online orders only.
Save this product for later