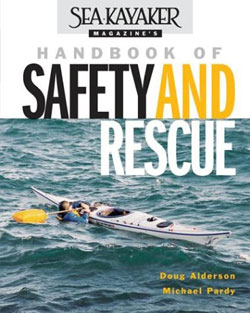 Sea Kayaker Magazine's Handbook of Safety and Rescue. Sold out!
SKU 6
Product Details
Written by Michael Pardy and Doug Alderson.
Paddle safely beyond sheltered waters. Taking risks and overcoming challenges are fundamental to the thrill and satisfaction of sea kayaking. When you paddle beyond sheltered waters and into the open ocean, however, due diligence and thorough preparation are not optional; they are essential to your safety. It takes well-developed judgment to know when you're just stretching the envelope and when you're bursting through it. And when your risk assessments fail you, self-rescue and assisted-rescue techniques are not supplementary skills--they will save your life.In this indispensable handbook, two premier kayaking instructors help you prepare your body, your boat, and your brain to meet this demanding sport's challenges. You'll learn how to make the right decisions in tough situations, choose the right safety and rescue equipment, and develop the skills and stamina you'll need to rescue yourself and others under perilous conditions. You'll also learn to: Plan your trip and assess the risks ahead of time Prepare for tides, currents, and local weather and wave effects Paddle in wind, heavy seas, and tidal currents Navigate in rough weather Communicate during emergencies Perform a wide variety of self and assisted rescues.
Signed copies available with online order only.
Save this product for later